THE SOLOPRENEUR MBA ™️
The 6 steps to 6 figures 90-day accelerator for coaches, consultants, and creatives to build their service-based online business
Hey Coach, Consultant, and Service Expert!
What Would Hitting 6 Figures In Your Business Mean To You?
The numbers don't lie.
Most entrepreneurs never make it past their second year.
Others do but never can actually pay their bills and relax, always struggling and hunting for new clients.
Don't let that be you.
This program was built to stop all that for good.
Get More Information
You Belong In The Academy If You...
WHO IS THIS FOR
Coaches, Experts, Consultants, Creatives, Online Entrepreneurs, and SMEs Who Want to Grow Their Online Business In an Ethical, Stress-Free Way and Who Are Coachable and Ready to Put In the Work
WHO IS IT NOT FOR
Anyone Looking for Miracle Solutions, Overnight Success, Get Rich Quick Schemes and Aren't Coachable Nor Willing to Put In the Work
YOU BELONG IN THE PROGRAM IF YOU HAVE
-Persistence + Grit
Commitment to consistently put into action your Individual Success Plan that we will put together for you.
-Positive Attitude
Be prepared to fail and fail again. But know that this is the only way to succeed, so keep a positive attitude to keep going toward the finish line.
-Mental Stability
A healthy mental state to be able to handle fear, rejection, failure, and other stressors that happen while building a business.
-Existing Business
This program is designed for people who have a business, whether it is in its infancy or still a side hustle.
-Time
If you aren't ready to put in the time for your business every week, this program won't be a good investment for you.
-Finances
You have the means to pay for the program. The ideal candidate still is full-time employed, working as a consultant, or has enough stable 1:1 clients to afford this investment. We do not want financial worry to interfere with your success and distract you.
Only coach the coachable - Bill Campbell
NOTE: WE ARE LOOKING FOR ENTREPRENEURS WHO MEET THESE CRITERIA AND ARE READY TO GO ALL THE WAY TO THE FINISH LINE!
Why Most Business Programs Fail
1. NICHE TOPIC
The program is either too niche or too high-level so you don't get everything you need. Pick carefully before joining and be weary if they don't offer a fitting call first. Review the curriculum and ask questions.
2. LACK OF 1:1 SUPPORT
There is no 1:1 support, so you can quickly get stuck. We have found individual support to be absolutely a must for success.
3. UNREALISTIC PROMISES
The coach promises the moon and the stars using exceptional case studies that are not the norm instead of setting realistic expectations for your success. While no program can guarantee an outcome since it is based on individuals, you should avoid programs that say 'everyone' gets a quick result.
4. NO PROVEN EXPERTISE
The Coach doesn't have actual proven business results and only created a theory on how to solve the issue. Sadly, this is becoming increasingly common to see non-qualified individuals calling themselves experts.
Why The Solopreneur MBA Gets Results
Customizable Framework
No cookie-cutter methods! We guide you how to design a custom solution perfect for you. Wouldn't you rather have a custom-tailored suit than an off-the-rack one like many other programs?
Six Steps To Six Figures
Our program is designed to cover the only 6 steps you need to build a 6-figure business from A to Z. Follow the path and you can't lose.
1:1 Support
Unlike 99% of comparable group programs, you also have 1:1 coaching included because we know you need it!
Experience-Led Coaching
I am not a one-training coach who feels qualified to help others based on theory alone. I am my own case study and a long-time entrepreneur who has been in your shoes, literally, and knows exactly how to build a business...all while raising 4 kids. If I can do it, anyone can!
Our 6 Steps To 6 Figures Framework
WHAT IS THE TRANSFORMATION YOU CAN EXPECT INSIDE THE SOLOPRENEUR MBA?
Clarity + Goalsetting: Your Brand Mission and Purpose
Winner's Mindset to Drive Success And Develop An Entrepreneurial Attitude
Perfect Core Product Offerings: Pricing and Ladder System
Time Management: Set Up Automations for Your Marketing + Sales Funnels for Your Launches And Evergreen Offers
Learn How To Operate A High 6-Figure Solo Business
Hi, I'm Krista, Your Head Coach!
I am so excited to introduce to you FROM ZERO 2 SIX ACADEMY.
It is my mission to provide affordable solutions to help all professionals build online businesses and achieve time freedom.
-I built an 8-figure agency with zero funding
-I built a 7-figure consultancy with zero funding
-I am building the Academy with zero funding
-I have been working in B2B Marketing for 22 years
Inside the Academy, I will share with you all that I know about growing a profitable business.
Everything You Need To Build A Profitable Online Services Business
WHAT YOU GET IMMEDIATELY WHEN YOU JOIN THE ACADEMY
Over $100,000 worth In Value
The Solopreneur MBA™️ business coaching program with life-time access
(Value: $70,000)
Profitable Solopreneur Community 12-month access with curriculum and live events
(Value: $22,000)
Eight Weeks For The Funnel Bootcamp (Pick Summer or Winter)
(V
alue:
$5,000)
Five Revenue Streams Masterclasses Immediate Access

(Value: $3,500)
Three 1:1 coaching sessions

(Value: $1,485)
Four VIP Challenges Per Year (Value: $800)
Discounts and Special Member-Only Offers For 1:1 Coaching Packages, Extended Live Group Programs, and More
You Pay Only $7,500 Full Pay ✶
AMAZING

Annual Pricing for 12 Months Access, Including 3 months of MBA Coaching And All The Perks Listed Above.
If you are interested, STEP 1 is to request more information on this page. This will enroll you in an on-demand short webinar to walk you thru everything and if you would then like to, you will be asked five questions. We review your answers carefully to make sure you meet the criteria. For those who seem to be a good match, a fitting call will be arranged on Zoom. This is a personal call to answer all questions to make sure you are 100% clear and comfortable with joining.
Don't Take Our Word For It. Listen to Our Happy Clients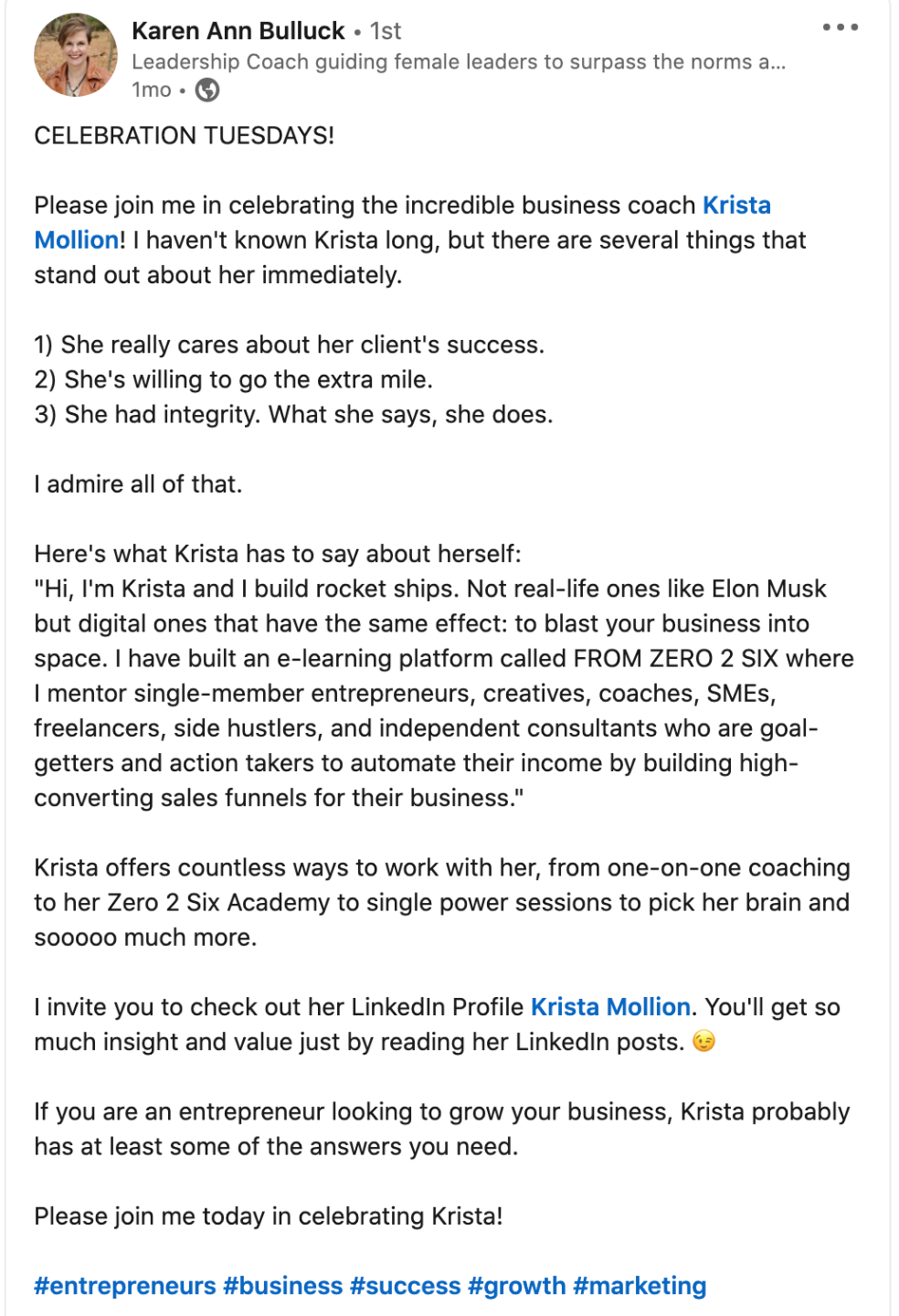 FAQs ABOUT FROM ZERO 2 SIX ACADEMY
TIME INVESTMENT: HOW MUCH TIME IS REQUIRED?
MONEY INVESTMENT: WHAT DOES THE MBA COST?
CONTENT: WHAT IS THE AGENDA DURING THE 12 WEEKS OF THE MBA PROGRAM?
COMMITMENT: DOES THE MBA OFFER ONGOING ENROLLMENT, DROP-INS, OR TRIAL PERIODS?
COACHING: IS ANY 1:1 COACHING INCLUDED?
POLICIES: WHAT IS YOUR CANCELLATION AND REFUND POLICY?
OFFERS: I'M NOT READY OR INTERESTED TO INVEST IN SUCH A PROGRAM. DO YOU HAVE ANY OTHER OFFERS?
QUESTIONS: WHAT IF I'M UNDECIDED BETWEEN PROGRAMS OR COACHING? I WANT TO ASK MORE QUESTIONS.
Earnings Disclaimer
You understand and agree that our products, programs, and services are intended to provide information and education to assist you in attaining your goals.
You understand and agree that your success depends entirely on your business experience, motivation, and individual capacity. There are no guarantees of any kind as to your earnings and income.
The information provided is not intended to replace financial or legal advice.
You should consult with an attorney, accountant, and/or financial advisor in your area who understands your particular business and financial situation so that you can take the right steps for you and your business or finances.
@Copyright All Rights Reserved KRISTA MOLLION LLC